A few weeks ago, an ad on my mobile phone caught my attention. I can't remember the exact wording, but it was something like "Gain 20 Yards in 5 Minutes". The ad lead to a website called weiterschlagen.de (which means hititfarther in english). At first I though it was a joke, but it turned out to be a real website on which you can buy a so-called Heavy Club that supposedly helps you to hit the ball longer and straighter. Now, I am by nature very sceptical of magic clubs like this. Especially since there are tests, which show the opposite effect.

Furthermore the amateurish design of the site didn't exactly instill confidence into the product. Nevertheless I got hooked on the website, because the claims were entertaining as hell. The supposed owner of the site, Sven Siegler, claims to have learned about this club from a former college basketball coach called Doug Erwing (whose name doesn't turn up in a Google search despite the fact that college basketball is intensely covered in the US). And after testing the club, Siegler hit his shots with an "unbelievable accuracy even some pro's can't claim!" He isn't the only one. Many happy customers share their experiences on the site.
A man called Horst Junker (estimated age on the picture 80+, claimed Handicap 20) says: "After having used Heavy Club for 10 minutes my slice is gone and I've added at least 25 yards". Jan Möller has "only used Heavy Club for 5 minutes, but I'm already hitting it 20 yards farther." And it goes on and on. Michael Pohl gained 30-35 Yards, Rolf Fuchs 35-40 Yards and Martin Lübeck gained 50 Yards. Wow! All of them have another similarity: the asterisk behind their claims. At the end of the page it is explained.

*This is a good result, but it can't be guaranteed that you will have the same gains.
Obviously this is an attempt to be legally safe if someone is disappointed by the performance of the club. This is not unusual, but combined with the outlandish claims one cannot help but be suspicious. I wanted to know more. I tried to find out who the testimonials are. The first one I looked for was Håkan Romlin. The former Swedish biathlon coach had a stroke a few years ago and used the Heavy Club for his rehabilitation. According to the ad he is "completely convinced that it is all thanks to his club that I'm now hitting all my shots so much better." I contacted Mr. Romlin to find out if those claims are true. And indeed: He confirmed that they are. I was positively surprised by this answer because the other testimonials weren't exactly trust-inspiring.
I wasn't able to verify any of the 15 remaining happy-campers. It might have been just a big coincidence. But then I discovered something that sent chills down my spine. During my research I discovered almost identical websites in different European countries. Weiterschlagen.de exists as Straightlinegolf in Sweden (straightlinegolf.se), in the Netherlands (straightlinegolf.nl), in Denmark (straightlinegolf.dk) and in the UK (straightlinegolf.co.uk). In France it is called frapperplusloin.fr, in Finland paremmingolf.se and in Spain pegarmaslargo.es. And on all of these websites local golfers claim to be very happy with the club. One thing was strange though: some of them looked eerily similar.
The 51-year old Jens Lang from Germany seems to have three brothers in different countries who look exactly the same as him, they all play golf and had the same success with the Heavy Club. (I pixelated the picture to not breach any personal rights).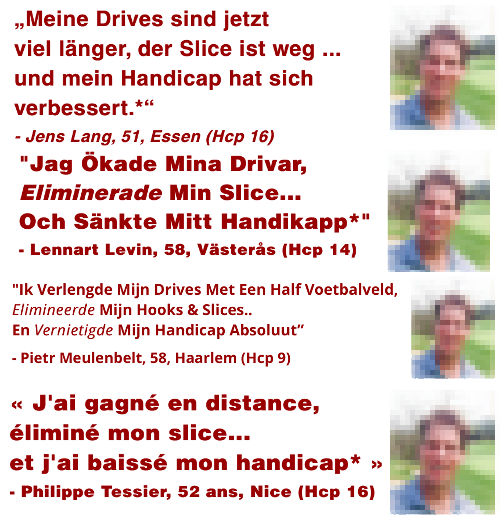 Jens/Lennart/Pietr/Philippe is not the only one with multiple personalities. Here we have three men from the UK, France and Scotland, who look identical.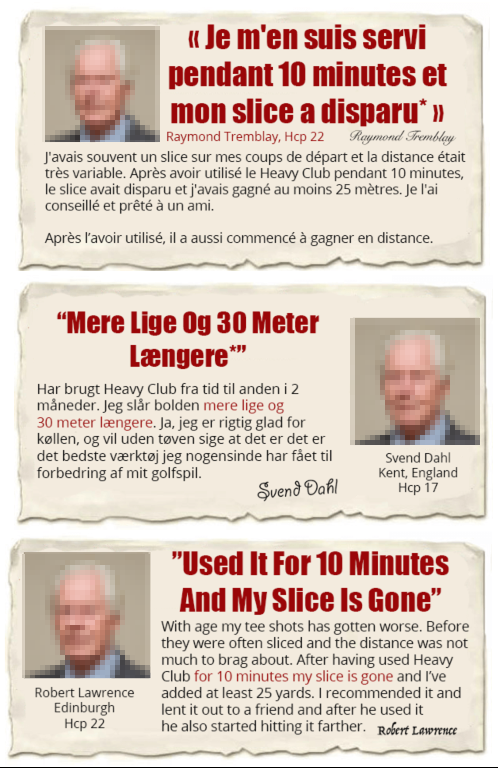 Und here is a Frenchman and two men from the Costa del Sol with different names and different handicaps.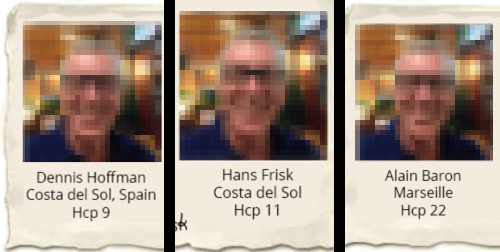 These deceptive customer reviews would be enough for me not to buy anything from this firm. But that is not all. Weiterschlagen.de claims to be owned by Sven Siegler from Salzburg, Austria. If you send an e-mail to them, the reply is written by someone called Alexander Ahl and sounds as someone just ran everything through Google Translation. And when I looked up the telephone number on the website, I found that the area code 0720 denotes "location-independent telephone numbers" A backwards search of the number points to a firm in Bruxelles called Voxbone SA, which distributes DID Numbers. If you check the other european locations, you find one similarity. In Denmark, Holland, France, Sweden, Spain snd Great Britain the address belongs to firms who offer virtual offices.
When I asked the person, who answers at least e-mails and phone calls for the German and Swedish websites, about this questionable practice, he admitted that you can't actually visit their office in Salzburg. Furthermore he justified the deceptive customer reviews by declaring they wanted to protect the identity of the real customers. A non-verifiable claim. But since we are just talking about a golf club that turned hackers into club champions and not
about a Yelp-review for a contract killer, I can't understand why someone would be opposed to letting them use their real names.
The websites straightlinegolf.de and straightlinegolf.dk are registered to Mr. Joakim Cullin from Ahus, Sweden. The site weiterschlagen.de is registered to the firm Straight Line Golf in Tallin, Estonia. On the other European sites, the owner was able to disguise the names. Only the UK-site belongs to a Mr. Lars Cullin from Edinburgh. But Straight Line Golf was not able to cover all tracks. In Estonia, where weiterschlagen.de is registered, and in Great Britain are websites, which support the previous findings. According to them, the firm belongs to a Lars Joakim Cullin from Sweden, who also owns Far East Logistics Ltd., Medi Slim Health Ltd. and Mondsteiger Ltd. (a distributor of nutritional supplements) and is listed as Director on all three of them. What a Prodigy. Besides that Joakim Cullin owns the website weiterdrives.de as well. This one is almost a carbon copy of weiterschlagen.de, with two big differences: in between the text you find intern remarks like "Re-do this one" or "THIS NEEDS TRANSLATION. (Started selling last year, already sold 6000 etc)." and the College Basketball Coach, who had the idea for the club, is suddenly called Jerrick Adams.
It is obvious, that customers are being lied to (and according to the only review on Trustpilot maybe even duped). It is even more obvious in Denmark where someone forgot (just like in Germany) to delete an old page from the server. It looks almost like the rest of the site, with one big difference: the logo.

At one time, the firm which sold the Heavy Club was called TonyQGolf. And once you google this name it opens a whole new bottomless pit. According to unconfirmed internet posts, TonyQGolf cheated some of their customers. In 2015 someone posted a warning on a
Swedish message board
about tonyq.se and – I quote – the "fraudster Joakim Cullin". I ran the entry through Google Translation so everyone can connect the dots.
He is not the only one claiming irregularities at TonyQGolf.
A Swedish blog entry warns about TonyQGolf as well – although the name is only found in the permalink. The entry itself and the commentaries have no references to the firm. I contacted the owner to learn more about the entry and she told me the complete story.
In June 2014 she stumbled across an ad from TonyQGolf and ordered a Heavy Club. The club got delivered, but turned out to be too heavy for her since they only have one model for men and women. When she wanted to utilise the money-back guarantee, she fought against windmills. For months she waited for her money. Neither e-mails nor calls made any difference. Upset by the conduct of the firm she wrote a blog entry to warn others about them. And suddenly many commenters claimed to have been victims of TonyQGolf as well.
Finally, in October 2014, she suddenly got her money back. Eight months later she found an e-mail from the owner in her inbox. He wrote that he had sold the company. His name? Joakim Cullin. He also asked her to delete his name from the post as he did not want it to be dragged into hell for the rest of his life as he had learned a lesson, moved to England and started a new life. After giving it some thought she agreed to do so in 12 months if there were no more comments about his way of leading a company. She put him in a kind of quarantine. After a year (June/July 2016) she got a reminder from Mr. Cullin to delete his name. She rewrote the post and changed the headline from including TonyQGolf to Heavy Club so it could still be found on the Internet.
In October/November 2015 she also got an e-mail from someone who claimed to be the new owner. He had renamed the company into Straightlinegolf and threatend to sue her if she didn't delete all references to the firm. She agreed, as "the e-mail was written in a ridiculous way" and she "realised that the conversation was about to continue endlessly".
It seems all of this was a lie. Once it was all water under the bridge, Cullin not only founded a new firm. He founded the exact same firm again, according to the ownership data in Estonia and the UK. He even registered the websites straightlinegolf.se and paremmingolf.se on the same account he had registered tonyq.se. Even in an employment ad for a maid in Tallinn his name is associated with Straightlinegolf. When I asked the man from custumor service if I could talk to Mr. Cullin he didn't deny to know him. He just asked what I wanted from him.
If you compare the new websites to the old ones, it it obvious that the German has become much better. The reason is hidden on a message board, where Cullin was looking for copywriters in different languages. However, the design hasn't changed compared to the old version. And why should it? He put so much work into the old one. The pain he had to go through. He had to visit howtobreak80.com, open the source code, pressing Ctrl-C a few times and after that even pressing Ctrl-V on his own editor. Yes, you read that right. Mr. Cullin stole the design of his page from someone else. It isn't as obvious as it was a few weeks ago since howtobreak80.com changed its design. But when you put the address into the Way Back Machine you are still able to find everything. The background image is identical, the font is identical, the testimonials have the same design. The list goes on and on.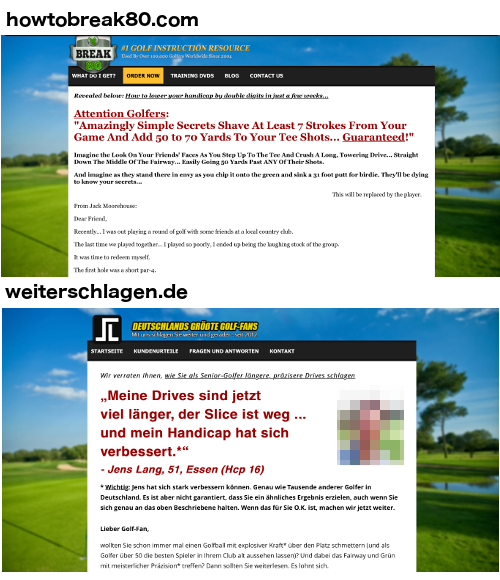 He even opened a thread in an internet forum to get feedback for his fantasic design – and got colled out by other users for his blatant theft. His response? Denial and insults. So who is Lars Joakim Cullin? Well, at least we know hoe he looks since he actually used his own picture on his websites (other than the German one). How do I know this?
You can find the picture of this golf prodigy with Handicap 3,8 on Facebook. It belongs to Lars Cullin.
PS: A word of advice to Mr. Cullin if he is reading this and tries to pull the same stunt with me as he did with the Swedish blog post. Let me just address you in your very own words, after you got called out on the internet forum mentioned above. Try sue me bitches and see what happens. Nothing.